On Wednesday December 11th, 2019 I went to the hospital to attend a Look Good Feel Better workshop.
Since I'm a homebody, jumping out of my comfort zone and deciding to go alone to an event with a bunch of strangers is a huge success for me.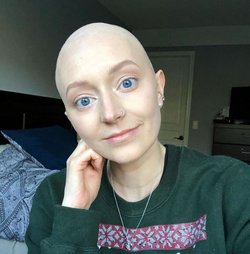 I found out about Look Good Feel Better through the hospital I'm being treated at. It's a workshop put on by a handful of amazing volunteers and it happens in cities all across Canada! (Be sure to look up their website to see where the nearest one is to you!) Basically, it teaches women (or people) going through cancer how to take back control of their situation and to feel just a bit better about themselves through beauty and skin care tips. They teach you about skin care, makeup, wigs and head wrap techniques. It's not always easy looking at myself in the mirror these days so I thought it was an amazing idea and figured I'd give it a go!
Matt was visiting during this time and though I knew our time together was limited, that this would be a good opportunity for me to meet with women going through a similar journey to me, and that that was important. He dropped me off and I went inside…
I was greeted at the door by a volunteer who asked me my name, brought me a tea, and opened up a makeup/skin care kit to place in front of me alongside a little mirror and some makeup applicators.
There must have been about 15 women in the room once we got things started and I chatted with the two ladies on either side of me (the one on the right was named Linda and on the left I cannot quite recall but it was beautiful and I remember her saying she was originally from Brazil). They were very pleasant and sweet. We talked about our situation— what type of cancer we were going through, how far along into our treatments we were, where we were doing our treatments, side effects we had experienced so far, etc.
The room was set up with tables and chairs in a C-shape classroom style manner and so I faced the other half of the women. I noticed the women across from me all went without anything on their bald heads so I decided to take off my little cap— I felt like I fit in with my bald head for once and figured since I go through hot flashes and sit sweating half the time that this would be a great opportunity to cool down too! (Haha).
The volunteers took turns at the front of the room walking us through the makeup steps and tips. I was the youngest by at least 10 years I think and because I'm obsessed with watching makeup gurus on YouTube (and because my eyebrows are tattoo'd on), I did alright and people kept asking me for tips and pointing out how lovely my makeup was coming together, which was overwhelmingly sweet! The lady beside me struggled a bit to see (we both had our glasses on and can't see hardly a thing without them but I encouraged her to do her best and to bring the mirror as close as she needed to in order to get the job done).
 
We snacked on Nanaimo bars, date squares, tea and coffee as the next topic was wigs and head wraps. We learned the differences between synthetic and human hair, price ranges, maintenance, and how to apply them so that they look the most natural on our heads.
Since I had just ordered a synthetic wig from a local hairdresser the week before, I raised my hand to explain my situation. The women asked me the name of the hairdresser shop, the price range, the kind and quality I am ordering, etc. It felt good to share even just a bit of knowledge. I suppose it helps I also took hairstyling in college so I could confirm a few of the facts the volunteers were saying.
The head wraps were fun to walk through— we received a pretty purple one in our kits (one that matched perfectly the kits and LGFB brand). And I was happy to learn a few tips and tricks on how to use them! I've been winging it myself for the last few weeks feeling a bit ridiculous at times. It helped that there were a few jokes thrown around to really get us interacting. The volunteers were really funny and great!
---
The amount of items in the kits were amazing! And I was pleasantly surprised to see some of the brands added to the kits. Here's a list of the ones I received (bear in mind some of the other women at the workshop received different items and brands!):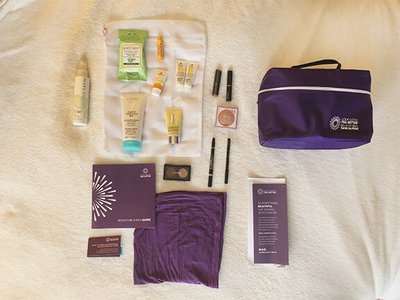 Covergirl foundation & blush (I gave this away since the shade was too dark, unfortunately. We were all very fair and so they ran out of the lighter shades too quickly! That's alright though since I don't wear foundation really anyway).

Artistry concealer (again, it's a bit too dark for me, but I'll keep it as more of a colour corrector to put underneath my usual concealer).

Nars eyeliner pencil (in Black. Always handy, though I'll use it sparingly these days so that it doesn't come across as too intense!)

Vasanti lipstick (mine is in the perfect Christmas red! Which made me feel a little out of my comfort zone since I always need a lip liner with bright colours but I put in on!)

Nyx Eyebrow/highlight pencil (I've used this in the past and it's quite handy!)

Mac eyeshadows (a little duo in a neutral medium brown and shimmery champagne colour! Perfect for a subtle New Years look I thought)

Burt's Bees lip chap & cleansing wipes (can never have too many lip chaps in the Winter! I also love these makeup wipes, they're what I currently use anyway so the travel pack is handy for your purse!)

Olay moisturizer/sunscreen (we're recommended to use 50 SPF+ while going through chemo!)

Clinique moisturizer

La Roche-Posay sunscreen lotion (it's mini so again, great for chucking in your purse or bag)

Vichy makeup remover/cleanser/toner (I'll be sure to use this to remove my face makeup!)

Mary Kay freshening spray (which feels really nice on the skin— I'll use this most mornings when I don't plan on putting any makeup on)
---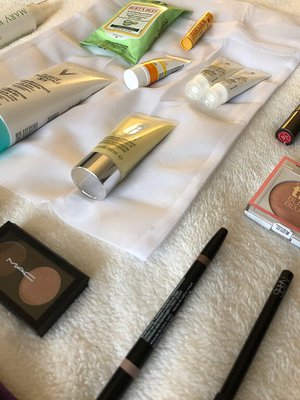 PS: Mary Kay is matching any donations made to the LGFB program this month! Check it out!
At the end of the workshop (which took just under 2 hours), I said my 'good luck, nice meeting you, and thank you's to the women I had chatted with. One women who had sat across from me (I want to say she was in her 40's, with beautiful blue eyes, bald head, and bright pink lipstick) came up to me at the very end. She told me she loved my energy the entire workshop— that my smile made her smile and she could tell that I am a very positive person despite going through this journey. I almost cried hearing these kind words come from a stranger! I told her likewise and wished her well. That made my day!
Matt picked me up and told me I looked beautiful. As we drove home I blabbed on about my experience and was happy I had went.
I encourage you to check out the LGFB program if you have one available to you within your area! It was nice to get out of the house and chat with women going through the same thing as me.
---
Read more from Stephanie's blog: She Stays Strong