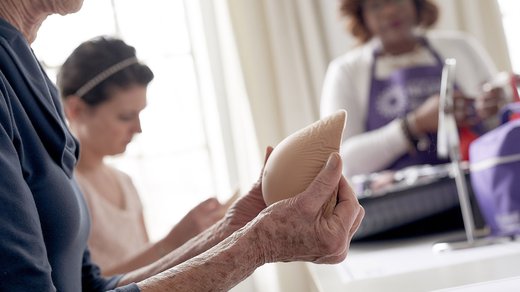 Is there a 'Right' Thing to Wear after Surgery or During Radiation?
Whether you are still unsure what course of action to take, or you are post-op, there are a lot of ways to feel more comfortable and like you. 
LET'S CHECK IN…
It's possible you're feeling a mix of different emotions after a mastectomy or lumpectomy. As your body continues to change, your relationship with your body may as well. It is important to know that it is recommended to wait six to eight weeks before you start shopping for new bras or breast forms, as swelling can affect the fit and comfort.
RIGHT AFTER BREAST CANCER SURGERY & DURING RADIATION TREATMENT
 For the first four to six weeks, it is best to opt for: compression-free & wire-free bras and camisoles.
Compression and wire-free bras are often made from soft fabrics and known as 'leisure bras.' When shopping for a leisure bra online or in-person, look for something that closes in the front rather than the back. After a mastectomy your body is still in recovery, and it can be difficult to pull anything over your head or reach behind to clasp the bra. If it is possible to try the garment on, ensure that the bra fits comfortably on the loosest hook. This is so it can be worn looser to begin with and gradually tightened as the swelling goes down. 
Some women also require drainage tubes following surgery. There are special camisoles with pouches or pockets or special bras you can attach pouches to keep the tubes in place.  You can also sew pockets inside a shirt.  A stretchy and comfortable tube top can also be comfortable, just make sure you can get it on by pulling it up over your hips rather than over your head.   A light, fiberfill breast form (also called an initial breast form) can be worn in a bra or camisole if you so choose. Some initial breast forms allow you to adjust the amount of fill inside to match the size of your other breast if you had a single mastectomy
While garments with a pocket specifically to hold breast forms will be the most secure, the choice of what you wear is up to you.
WHAT IF I AM HAVING A LUMPECTOMY?
Follow the information above, however it is good to keep in mind that your medical team may advise you to wear a bra for 24-hours a day for the first week or two after surgery.  Like with a mastectomy, look for a bra with:
soft fabric

no compression

no underwire

easy to put on.
BUT RADIATION IS PART OF MY CARE PLAN!
Like dressing for a mastectomy and lumpectomy, look for:
Avoid:
anything with seams that may rub against your radiation site. 
Fitted, not tight, tank tops made from bamboo cotton offer support and are a great option for many women. While others prefer loose-fitting button up shirts and go without a bra or camisole. What works best for you might come with some trial and error, but having a few different options will be helpful, especially if you need to wash them often because of regular use of creams and ointments on the treatment site.
I HAD RECONSTRUCTION. WHAT ABOUT ME?
Compression bras will be your friend here! A compression bra following reconstruction helps to maintain shape and holds the breast(s) in place, preventing pressure points and tissue irritation from forming.
It is great to look for a compression bra made from:
strong fabric
no seams on the skin
and a longer line for comfort  
Again, a front closure means you won't have to stretch to reach a back closure or pull anything over your head. Your body will thank you!
GOOD TO KNOW
Lymphedema: People who are treated for cancer are at risk for lymphedema if they have lymph nodes or vessels removed or damaged during treatment. Speak with your doctor about treatment options and visit canadalymph.ca for more information. 
POST-RECOVERY
When you are ready to move into an everyday bra, which can range from two months to one year after treatment is complete, special mastectomy bras are available in styles ranging from lingerie, sport and everyday bras. These are specific for post-mastectomy or post- lumpectomy because they come with pockets to hold breast forms.  Many have a higher neckline for support and to help cover scars. If you sew, or know someone who can, you can have pockets sewn into any bra as well – but you may need to experiment a bit to get the right design to hold the breast form. 
Remember that your size and shape may have changed post-treatment and post-surgery.  A specialized bra retailer can help you find the right size – or check out our bra-fitting tips below.
CURIOUS ABOUT BREAST FORMS & GARMENTS?
BREAST FORMS
Have you heard the term breast form or breast prosthesis before? Whatever the   name, they are a product designed to mimic the shape of a breast for women who have   had a mastectomy or lumpectomy. Some breasts forms even have a similar feel to a natural breast.
Breast forms are inserted into special pockets in bras to help clothes fit better. Many women wear them to restore balance and   help boost confidence in their new body. There is nothing wrong with wanting to feel like yourself. Some women use breast forms while waiting for reconstruction, others may choose to not have reconstruction and use forms as a long-term option. You may find you wear a breast form all the time, or just on certain days or during certain activities. Some women find wearing a breast form helps minimize shoulder droop and others choose to not wear one at all and "live flat."
There are many different options, but no universal 'right' choice, the right choice is what works best for YOU and your needs!
Should you choose to wear a breast form, there are lots of different options out there. They vary in weight, material, size and shape, so you want to take the time to try them out and find the best one for you.   Some are even made specially for exercising and swimming.  Custom made breast forms are also available if you aren`t able to find a shape off the shelf that works for you.   
BREAST FORMS COME IN MANY OPTIONS:
Various weights to match natural breast or lightweight
Some companies offer forms in up to 3 different shades
Partial forms available for lumpectomy
Symmetrical or Asymmetrical to match your natural shape
Special forms for swimming or sports
Forms are made of different materials including silicone, gel, fiber fill, foam
During the 6-week healing period, you won't want to add weight or compression to the area. Initial breast forms, which are made of a lightweight, loose fibre, are a good option. Some initial breast forms allow you to adjust the amount of fill inside to match the size of your other breast if you had a single mastectomy. If you are having reconstruction later, you can add fill back in if you are going to have an expander.  Some women like the lightweight fibre of an initial breast form and choose this option as their standard breast form after the recovery period has passed.  Others prefer the weight of a standard breast form as it can feel more what they are used to.  Some women refer to the "hug test" – or what makes them feel most comfortable when hugging a loved on.  Knowing what will work for you will depend on your needs. No one knows you better than you!
PARTIAL FORMS:
Used after lumpectomy, lymph node removal;

Can also be used several years after a reconstruction to match changes in your other breast due to  changes in weight  and natural changes over time,

They help balance shape and create symmetry,

Options for every shape and size to match the other breast.
PREPARING FOR A FITTING
Schedule 6+ weeks after surgery.

Ensure you don't have any swelling to find a proper fit.

No drainage at site.

Must be completely healed: no wounds or bandages.

Most fittings are more than an hour - call and book an appointment.

Bring a fitted t-shirt to try on over top of bra.
Nervous about going in? Call ahead to ask questions and see if you feel comfortable and ready to book your appointment. Does the retailer appear to be knowledgeable of various surgery types and treatment?  Ask if they carry a range of products and if they have a private atmosphere. Your comfort is key here! 
BRA FITTING TIPS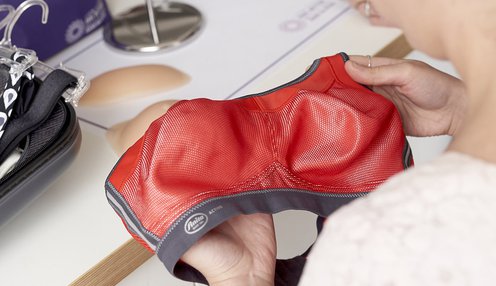 Did you know that many women are not wearing the right size bra?  When our bras don't fit right, we may have pain where straps dig in, feel uncomfortable if the back rides up, or self-conscious in our clothes. 
The band in the most important measurement as it provides 80% of the support. It should be parallel to the ground all the way around.  If the back is riding up, go down a band size.
If your breast is spilling out over the top of the cup, or the bra is digging into the breast, go up a cup size. If there is extra cup fabric, go down a cup size. Don't try to make up for a poorly fit band or the wrong cup size by adjusting the straps – you'll end up with less support and may hurt your shoulders. The straps should sit comfortably and not create any red marks. 
Remember, just like breasts, bras come in different shapes and styles. So, make sure to try a few on to find the one that works best for you.  
FIND A RETAILER IN YOUR COMMUNITY
There are many retailers across Canada which carry breast care products.  Consider asking for recommendations from your cancer care centre, friends or family members, or try doing an internet search to locate the nearest in your neighbourhood.  Remember to call ahead to book an appointment and ask questions.  
Questions like:
Do they have a private fitting room with a full-length mirror? 

Do they offer a range of products you can try? 

Can you book an appointment during a quiet time in the store?
Look Good Feel Better thanks Anita Canada for their commitment to the Breast Care, Forms and Garments  workshop. You can learn more about Anita Canada and their retail partners here.
FINANCIAL COVERAGE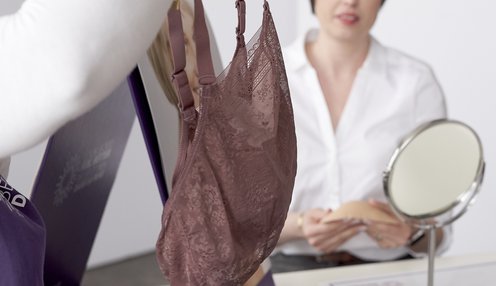 The average post-mastectomy bra is under $100, a prosthesis is $200 to $400. Depending on where you live, your provincial healthcare plan may reimburse some costs of breast prostheses. For private health insurance, it depends on the plan, but they often will cover prostheses as well as post-operative bras once per year. Additional information about provincial funding for breast prostheses, click here. 
Check out our community resource page for free resources in your community or visit the CCS Service Locator for a comprehensive listing. Talk to your team at your cancer centre for more free resources.