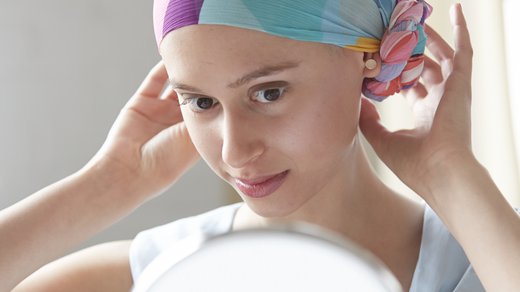 Scarves can be stylish alternatives to wearing a wig. Have some fun and experiment with different styles, fabrics and colours. Then, finish the look with some great earrings and a pair of stylish sunglasses, and you're good to go.
When choosing a scarf be sure to look for one made of a soft cotton blend, rayon or polyester to avoid slipping.
OBLONG SCARF
Drape scarf over head and let
ends hang down evenly.
Tuck in excess hemline of scarf before securing in a knot at nape of neck. Tie a double knot in back and, if you like, bring one of the ends over your shoulder.
For a little personal style and pizzazz, top it off – place a hat  over scarf and position as desired.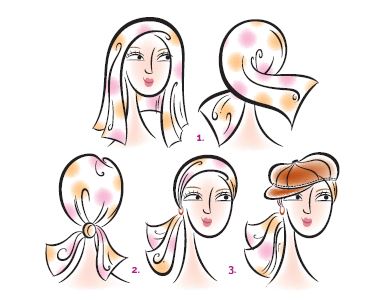 LARGE SQUARE
Fold square diagonally and position folded edge on hairline.
Cross tails at back of neck.
Tie a double knot in back.
Voila, you're as cool as a cucumber in a sporty bandana.