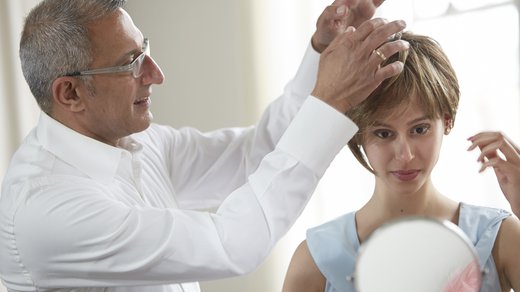 We have been told by many women that the loss of their hair was more devastating than their cancer diagnosis. Remember that hair loss is temporary. But, in the meantime, Look Good Feel Better provides hair alternatives solutions to meet this challenge 'head on.' Whether you want to look more like yourself, or try a new look, we have a few tips and suggestions.
PRIOR TO HAIR LOSS
Depending on the type of treatment you're receiving your hair may either thin during the course of treatment or fall out completely. Your oncology
team will be able to inform you when to expect hair loss. It is best to look for a wig prior to starting treatments so your hair alternatives specialist will be able to match your present hairstyle, colour and texture as close as possible.
REMEMBER
Don't shave your head to the scalp as this may cause irritation. It's recommended to cut hair to 1/8 of an inch.
THINNING HAIR
If you notice that your hair is thinning, take note of the following:
Refrain from colouring your hair.
As the texture of your hair will change and may feel brittle, a hydrating shampoo and conditioner will help your hair feel softer.
Consider cutting your hair shorter than you usually wear it as this will help your hair look thicker and the hair loss less noticeable. Also, short hair doesn't put stress on already weak  hair follicles.
If possible, avoid overusing blow dryers, curling irons, hot rollers, hair sprays and any products with an alcohol base.
When sleeping, use a satin-like pillowcase to minimize tugging your hair at the scalp.
FULL HAIR LOSS
When hair loss starts, your  scalp  will be very sensitive, and hair will fall out gradually. At this point, you may want  to have your hair cut to at least 1/8 of an inch. This will help ease the stress of watching the loss of hair and will help your scalp feel less sensitive. During  this time, you may wish to wear a sleep cap during the day and at night to catch the hair.
CARING FOR YOUR SCALP
When you've lost your hair, your scalp may become drier. Gently massage your scalp with your facial moisturizer to make it feel more comfortable and increase circulation to your stressed hair follicles. Caring for your scalp will greatly reduce sensitivity and itchiness, allowing you to wear your wig, scarf or hat more comfortably.