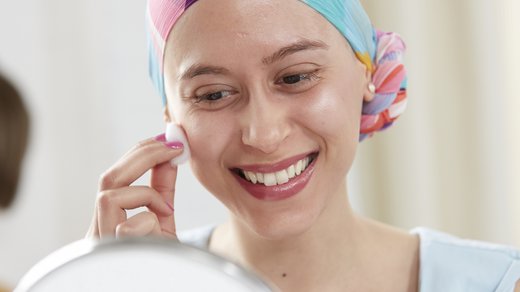 A healthy skin care regimen is necessary when undergoing cancer treatment. With the right products and a soft touch, the following techniques will make it easier to care for your skin.
CLEANSE
Removes makeup, impurities, dry flaky skin and helps stimulate circulation resulting in skin that is clean and feels pampered.
EYES
Remove eye makeup with a non- irritating, non-oily eye makeup remover and a cotton pad.
Hold the pad on the eyelid for a few seconds and then wipe downwards over the lashes, gently moving the pad from the inner corner of the eye towards the outer corner.
Use a fresh cotton pad for each eye.
LIPS
The same eye makeup remover can be used to gently wipe the lips until all colour has been removed.
FACE AND THROAT
Apply dots of cleanser (either a lotion or cream) to your forehead, nose, chin, cheeks and throat.
With clean fingertips, gently massage in small outward circles to help stimulate circulation; on the neck, use an upward motion.
Gently tissue off the cleanser or rinse thoroughly with lukewarm water and pat dry.
TONE
Removes any lingering traces of cleanser or makeup and prepares the skin for moisturizer while restoring the skin's pH balance. Using a cotton pad and a gentle downward motion, apply a non- stimulating, alcohol-free toner being careful to avoid the eyes and mouth.
MOISTURIZE
Helps your skin maintain its optimum moisture balance and alliviates dryness
EYES
Using your ring finger (your weakest - and therefore gentlest), lightly tap eye cream on the orbital bone, above and below the eye; less is more.
Don't go too close to the eye.
We had the privilege to be joined by Dr. Maxwell Sauder, Onco-Dermatologist, who shared his recommendations on caring for your skin and scalp during treatment and beyond. Learn more here.