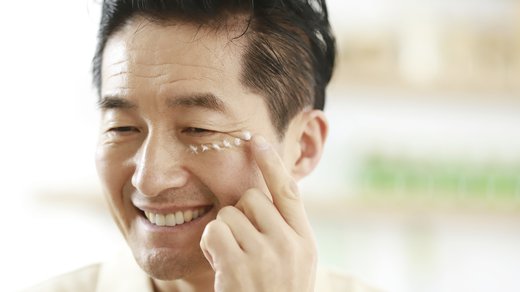 Whether you're someone who knows his way around grooming, someone who's never laid hands on a moisturiser before or somewhere in between - caring for your skin during treatment can make a world of difference to how you look and how you feel. 
The three basic steps are:  Cleanse with a Facial Cleanser, Moisturize with Lotion and Protect with Sunscreen   Read on for more details, and a few additional steps you may want to try.  
CLEANSER: A facial cleanser will remove dirt and dry flaky skin and help stimulate circulation. Look for products that say "gentle" or for "sensitive skin". Ideally, use a facial cleanser twice a day – morning and night. For the rest of your body, you can use a gentle body wash.
EXFOLIATOR: To get a deeper clean, try using a gentle exfoliator once or twice a week, before or right after cleansing. This will help to remove dead skin cells, prevent black heads, reduce ingrown hairs and leave the skin looking smoother, clearer and brighter. Again – look for a gentle option during treatment and try testing on a small area first.
MOISTURISER: Moisturiser is hands down the most straightforward and effective way to keep your skin in top shape – apply after washing and patting dry your face. While most men generally have oilier skin than women, treatment can have an effect on this so staying hydrated (both inside and out!) is fundamental.
SUNSCREEN: This is an absolute must-have. One of the most prevalent side- effects of treatment is sun sensitivity, so wearing a daily sun protection with a minimum of SPF30 is essential.  
Hand Cream: Hydration is, again, a key element in maintaining your skin during this time. Keep a hand cream by your sink.
BODY CREAM/LOTION: Having a body moisturiser will more than earn its place in your daily care while undergoing treatment. Dryness, irritation and possible skin cracking are all things you want to avoid so laying on the lotion is more than worth the effort. Apply after you shower or bathe, and throughout the day as needed.
LIP BALM: Your lips, just like any other part of your body, may experience dryness during treatment. Keep things simple with a hypoallergenic lip balm with an SPF to keep you moisturised and prevent burning during the day.
TINTED MOISTURISER/CONCEALER: There are some great tinted products out there that are very light-weight and natural. These products help minimized any redness, uneven skin tone and/or dark circles under the eyes. Always look for fragrance free hypo- allergenic products when picking up your grooming essentials as treatment can make even the most robust of skin a little more sensitive.