OUR SPEAKERS

President and CEO, ThriveSpace Health and Wellness 
Dr. Simms is a senior Clinical Health Psychologist who has a well-established career providing specialized care for children, adolescents and adults with complex mental and physical health challenges or conditions. In her work, Dr. Simms works collaboratively with her clients while utilizing evidence-based, cognitive behavioral interventions within a measurement-based care framework. In her work ranging from primary to tertiary care settings across 4 Canadian provinces, Dr. Simms has worked to build and evaluate evidence-based practices and programs. Dr. Simms strives to support the health and well-being of the individuals she works with, while enhancing and improving service delivery in both the private and public health sectors. 

Dr. Simms is a passionate leader whose responsibilities have extended to provincial and national health leadership. Dr. Simms is an innovator who drives change, and is a sought-after consultant for system-level projects. Using her scientific background, combined with her dedication to enhancing and extending health service delivery, Dr. Simms contributes meaningfully to boards, steering committees, working groups and initiatives aimed at transforming the health care landscape through disruptive, data-driven innovation. Dr. Simms is the President and CEO of ThriveSpace Health and Wellness, a company which focuses on delivering and enhancing digital health services. In this space, Dr. Simms consults with individuals, clinicians, organizations and health systems to augment and enhance service delivery. Dr. Simms is passionate about ensuring individuals everywhere can access the right care, at the right time, in the way that most suits their needs.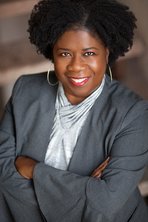 Dianne Austin, B.S. is the co-founder and CEO of the startup, Coils to Locs, a direct to hospital distributor of high-quality coily, curly hair prosthesis (wigs) for Black women or any woman with highly textured hair. Coils to Locs is at the forefront of addressing an unrecognized health care disparity that impacts Black women experiencing chemotherapy-related hair loss: The lack of coily, curly wigs that are available at cancer centers in the U.S. that can be purchased with health insurance reimbursement.
A five-year breast cancer survivor and thriver, Dianne is passionate about healthcare equity issues given her personal experiences and that of family and friends within the healthcare system.