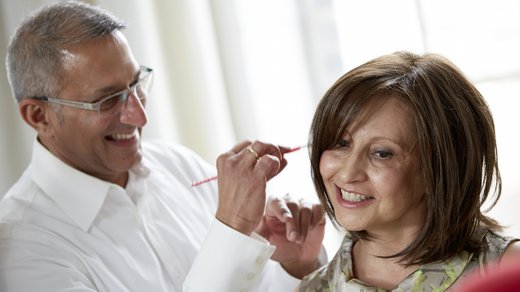 Taking the extra time and effort to style your wig will make you feel more confident as people will not be able to tell that it's not your own natural hair.
Use your fingers to create a slightly tousled style which looks more natural; avoid brushing your wig flat. 
Don't be afraid to be creative when styling your hair. For example, if you have a long-hair wig, wear a head band or put the hair in a ponytail. Be sure that you've covered the edge of the wig cap with some hair.
Remember: You can use hair dryers, flat irons, curling irons, etc. on a human hair wig, but NOT on a synthetic wig.

PUTTING ON YOUR WIG
First thing to do is determine the front and back of the wig; there should be a label at the back.
Put your wig on your head and find the side tabs on either side and align the tabs with your temples.
Expose your ears.
Find your hairline to determine where the wig should fit on your forehead.