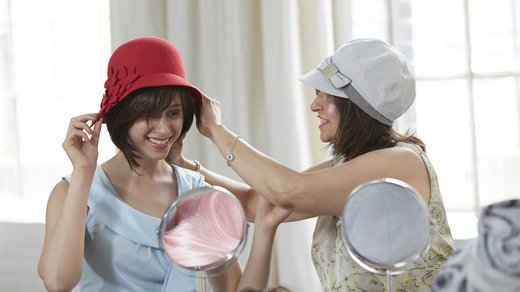 Hats are enjoying a fashion resurgence. There are lots of styles available –  from berets to caps to hats with wide,
glamorous brims. Here are a few helpful things to keep in mind when hat shopping.
Look for hats that are made from natural fibres such as cotton, linen, wool and silk. These fabrics breathe and have more give which makes the fit more comfortable. If the hat isn't made from these fibres, make sure that it has a lining that is.
Don't forget that hats are usually made to fit heads with hair. If you've lost your hair, make sure that the hat you select offers a snug but comfortable fit.
Choose a hat that provides total coverage of your hairline.
You'll need a few different styles to fit in with your lifestyle. Look for hats
that you can wear to work, on the weekend or if you're going out for the evening or to a more formal event.
Sun protection is even more important when receiving cancer treatment. opt for wide brims or UV hats that provide added protection.
The colours that you go with should complement those that you find in your wardrobe. If you've noticed that your skin colour has altered due to your treatment, choose colours that complement your changed skin tone.
You can add a little pizzazz to your hat with a colourful scarf or a great brooch.

REMEMBER
A lot of your body heat escapes from your head. A sleep cap will keep you warm in the evening.