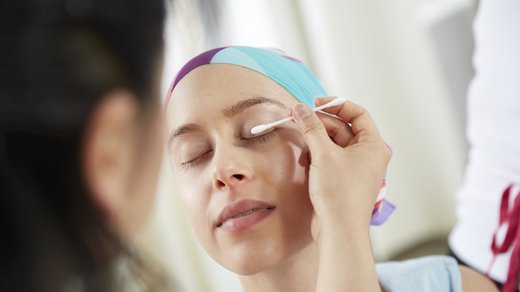 Some say that eyes are the 'windows to the soul.' It's only fitting then that they play an integral role in our Signature Steps program.
EYEBROWS
Balances the eye and flatters all other facial features.
Hold a brow pencil straight up against your nose, parallel to the inside corner of your eye. Draw a dot on the brow bone at this point. This is where your eyebrow should begin.
Looking straight ahead, place the pencil parallel to the outside edge of the coloured part (the iris) of your eye.  lace a dot where the highest point of the brow line should be. This is the arch of the brow. Use the orbital bone as guide to finding the highest point.
Place the pencil diagonally from the bottom corner of your nose past the outside corner of your eye and draw a dot.  his is the end of your brow. Be sure it's not lower than the beginning of your brow, as this will create a down-  urned expression.
Connect the dots into a brow line with light, feather-like strokes of colour, making the brow fuller on the inside corner and thinner as it moves out.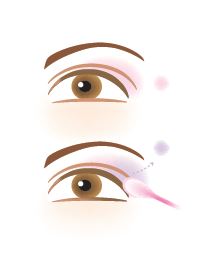 EYESHADOW 
Brightens your look and helps define eyes.
Choose a neutral matte eyeshadow palette.
Sweep a light shade over the entire lid and up to the brow.
Apply a darker shade in a sideways v on the outer corner of the lid starting from the lash line and extending into the crease.
Apply a highlight shade under your brow if desired.
Blend well to soften the effect.
EYELINER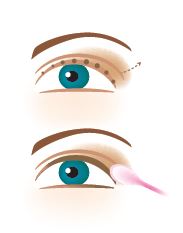 Works to recreate the look of lost lashes, define the lash line and create the illusion of full lashes.
Using a pencil eyeliner, draw small dots close to the root of the lashes on the eyelid.
Holding the eyeliner on a slant, starting from the inner corner of the eye, connect the dots at the very base of the lash line.
Using a cotton swab, gently blend; use a little of the darker eyeshadow over the eyeliner to soften the look and help it last longer.
MASCARA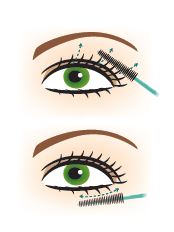 Restores a lush look to thinning lashes and defines the eyes.
Apply first to the top side of the lashes and then to the underside.
Brush the mascara wand lightly across the lower lashes.
Mascara, more than any cosmetic, is prone to bacterial infection, so replace your mascara monthly.
Don't wear false eyelashes as the glue can be very irritating to sensitive skin.
Remember: Don't pump the wand in the tube as this may introduce bacteria.